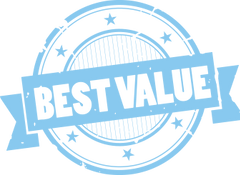 Build your stunning website
Drag & Drop Site Builder with Templates
Make your business stand out with your own personalized domain. Having a domain name that highlights who you are makes you stand out amongst all the other webistes out there.
Build your website in 3 easy steps
Whether you're using a template or starting from scratch, you can build an amazing website in just minutes with absolutely no programming required.
Customizable Email Addresses
You can create professional and easy to remember email addresses using your domain. Email addresses like me@johnsmith.com are friendly and easy to remember.